This Tiring Hand Tool is designed to be used along with a winch and anchor spots to install a solid rubber tire for wheels that use this type of tire. Primarily for the large wheels of hiwheel bikes, but can be used on other wheels where it can be made to fit. Please review the installation video on our Videos page to see how this tool is used, and the other components you will need to be able to install a solid rubber tire using this method.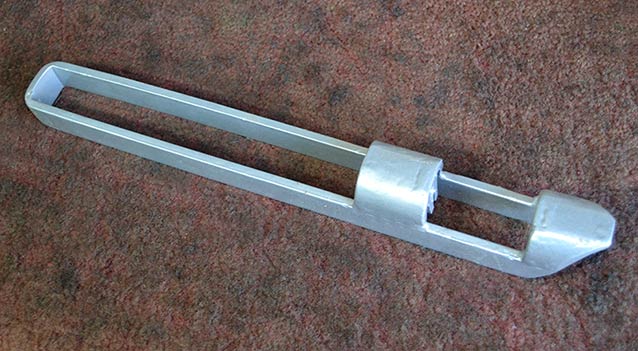 Made of welded steel, this tool should do quite well for you. It comes with extra long jaw teeth that can be filed shorter for your particular application. With the long teeth it will hold back thicker diameter rubber material. However, if the material you are using is thinner, you may wish to file the teeth shorter to allow the tool to sit down lower on the rim for better access to the wire joint area.
| | | |
| --- | --- | --- |
| #2829 | Tiring Hand Tool | $70.00 |

Below is our manual Tire Setting Machine. It's based on historical machines and will work well for anyone needing to install solid rubber tire on wheels. Best used for wheels smaller than 30 inches, but it can also be used on larger diameter wheels with some patience and practice.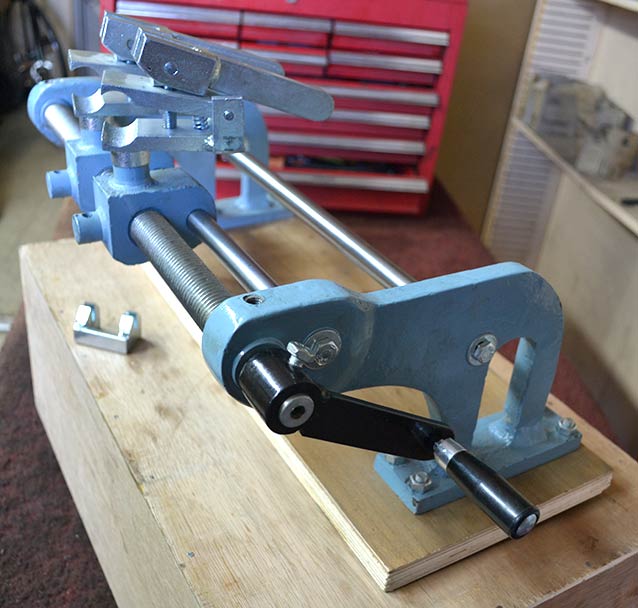 This machine uses a single left and right threaded bar screw to actuate two draw blocks where the interior wire for the tire is attached. The machine has a cast frame, large diameter actuator screw, large diameter bar brace, mount points for tire clamps, two adjustable tire clamps, a tire spacer block, and is bolted to a wooden base. Ideally, the base should be firmly attached to a workbench when being used. For instructions on how to use this machine, please watch the video on installing tires on our Videos page. Ships in a wooden case.
| | | |
| --- | --- | --- |
| #2830 | Tire Setting Machine | $250.00 |